There are lots of cute dogs out there. Even though every owner feels their dog is the cutest, some breeds just lend themselves to more cuteness (when judged by people who are not their owner).
For most people, smaller dogs are cuter. Many of them look and act like interactive stuffed toys. Toy dogs are increasing in popularity all the time, with people breeding them to be even smaller. Within the next 20 years we will probably see adult dogs the size of kittens. They don't eat much and they're easy to clean up after. 🙂
If you look at the top 20 most popular dogs, Pomeranians (aka Pom Poms) rank number 20. Even though they're not Shih Tzu, you have to admit they are pretty darn cute. They're small, they're fuzzy, and they're adorable when groomed and dressed up. These two on the left, Buddy and Boo, are best friends whose antics are well publicized. Little Pom Pom puff balls.
There is no denying they are cute. They also get along famously well. They like to ride in the car together: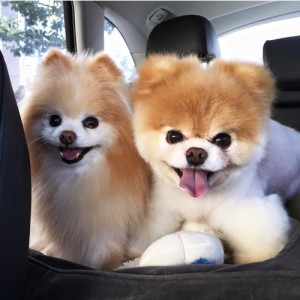 They like to go on hikes together: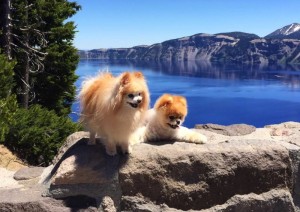 And after a hard day of chasing squirrels, they like to nap together, touching paws: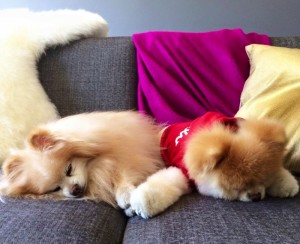 Now, there are other cute breeds, too, Shih Tzu being top among them. We'd like to find some Shih Tzu who compare in cuteness to Buddy and Boo. If you think your Shih Tzu is a candidate for the cutest dog ever, go to our Facebook page and post a photo.