We recently asked a bunch of Shih Tzu owners to explain their dog's unique personality. Many of the responses made us smile. Turns out that they (the dogs, that is) aren't much different than people (no need to explain that to a dog owner!). Some have bad behavior, most are angels (most of the time), and some are just… well, a little strange. Here are some of our favorites.
---
Bandit
I have had Bandit since she was roughly four weeks old, she will turn ten in September.
She has ATTITUDE. If I travel, she won't show me affection for days after my return.
She liked some girlfriends in my life more than others. She is also particular about the other dogs she likes.
---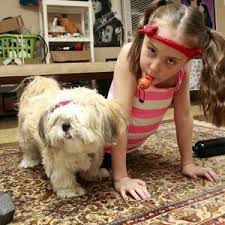 Happy
Our dog who gained weight, so our daughter now takes her to PUP BOOT CAMP!
She plays the music loud and screams "push it pup" and blows her whistle. It's hysterical, and our dog did lose weight.
Our dog Happy is a little older now, but they still have fun together.
---
Desi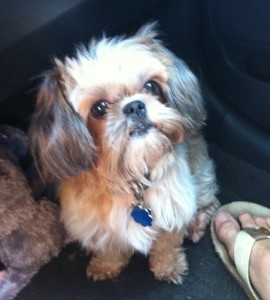 I am a proud owner of an 8 year shih tzu who certainly has a personality. He's the sweetest, most affectionate dog who loves to be cuddled. I did a lot of research about this breed before getting the dog because I wanted to make sure it fit with my lifestyle as I'm active and I know some smaller dogs are just meant to be house pets. I've read that they are difficult to train because they are stubborn and have a mind of their own, but honestly Desi was the opposite of what I've read in breed guides and books.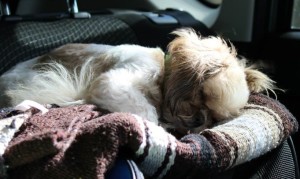 He loves to hike. He was easy to train, potty training was a bit of a struggle, but once he picked it up he was so behaved. He didn't want to disappoint you and still doesn't. He listens to all voice commands and stays close without wandering too far. He is a true companion and a people pleaser. He was the runt of his litter so he is one of the smallest Shih Tzus I've ever come across but he really has the heart and soul of a best friend. AND big personality trait is that he doesn't bark. Literally does not bark, he'll whimper or growl if another dog is bothering him, but he is not yappy like most shih tzus. He has mastered the art of zen and is a little Buddah. He is at peace, not irritable, and so patient and loving.
---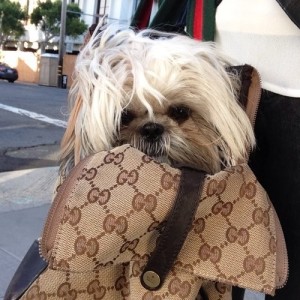 GG
My female shih tzu, GG, is FULL of personality. In fact, she thinks she is the queen of San Francisco! We live near the popular street, Union Street, and without prompting she walks into all of the stores along the strip that hand out dog treats. She is quite the shopping Shih Tzu. When she is not schmoozing with restaurant and store owners, she is posing for pics as she is the star of my fashion blog KK and GG.
---
Darcy
You could say that I'm a bit obsessed with my 2-year-old Shih Tzu, Darcy (named after Mr. Darcy, of course!). My mom bought her for me as a college graduation present and the two of us have been inseparable ever since. She has a bigger personality than most people and has quite the reputation at the dog park for her silly antics.
This is what I found when I came home after my first day at my new job. I'm now working four 10-hour days instead of five 8-hour days and was feeling guilty about her being home alone so long. To make up for it I left her a pee pad in case she needed "to go." This is what she thought of my peace offering!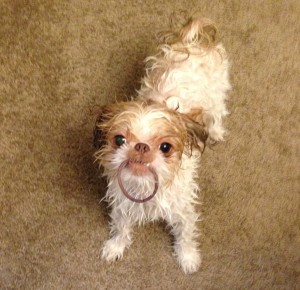 This dog is OBSESSED with hair-ties. She will carry one around the house like a binky all day.  If she sees one on my wrist or sitting on my vanity she will cry until I give it to her.
---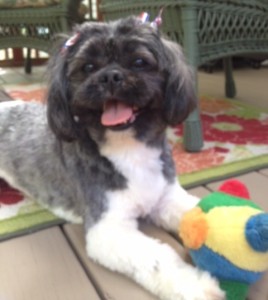 Hershey
My little shih tzu Hershey (kisses) is the funniest, craziest and sweetest dog. Every day when I come home I ask him for a hug. He accommodates me by standing up with toy in his mouth to show me some love. I can't go anywhere in the house without him. He will play wildly at the drop of a hat with me or my other little dog. He loves children and people in general. I rescued him from a bad breeder and grateful now that I did. He has so much love to share. I have 6 chickens and that dog will not hurt them. He will walk among them. Funny to see, but cute! One of the most prominent qualities about shih tzu's is that they are loyal and love you to pieces!
---
Gigi
I have a 3 year old Shih Tzu named Gigi. She definitely has a personality. She has signals for everything. She motions when she wants to go to bed. It's usually around 9pm when my husband and I are sitting on the couch watching TV. Most nights we give into her because she is very persistent. Once she goes upstairs to bed, she can't wait to get on the bed with her blue bone..
She gets upset if anything is out of place in her pen. Once I was washing her blanket and it was missing out of her pen and she chewed up her puppy pad to let me know that she wanted it back.
Also, she is afraid of everything!
She motions when she wants to go outside. She motions for when she wants food. Not to brag, but she is very smart…except… when it comes to pooping. She eats her poop… We've been trying for 3 years to get her out of the habit. She is house trained on a tray with a puppy pad. Most of the time when this happens, we are in the shower or in the bathroom ourselves so we can't get to her right away. She is very smart that she waits until she knows the timing is right.
---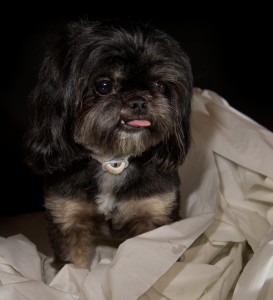 Jasmine
Jasmine is Queen of our home. She lets all visitors know that she rules by barking aggressively at strangers as they are coming and continuing the treatment as they leave. While visitors are in the home she is usually very curious but pleasant to strangers.
She is very smart. At night, if she hears a noise she does not make a loud bark to alert us. Instead she has a "quiet" bark to demonstrate that she knows we are sleeping but wants to calmly alert us. If we return home and the house is dark, Jasmine will not bark until she has confirmed it is her owners. After she has confirmed our presence, she prances around the room to show her excitement.
Jasmine loves belly rubs and gladly rolls on her back to receive whenever possible. She looks for an opportunity to nudge, lick, nip, bark, roll over or fall at your feet for a nice rub. She will keep coming back for more until she feels the signal. A light double tap on the belly lets her know that it is time to stop.
---
Stella
Stella thinks she is a defender against the evil cats and anyone within 200 feet of HER home.
At a whopping 8 pounds, Stella broke her chain last year and raced after a large school bus. I, in a T shirt and nasty old jammie bottoms, a gray-haired woman without shoes, raced after her and the school bus on a suburban street at 7:30 am screaming STELLA COME!
It was winter and there was three inches of new snow. We ran three blocks, when we both stopped out of exhaustion as the bus disappeared around the corner.
These little dogs are feisty, opinionated, verbal, loving, loyal and true to the play Cat On A Hot Tin Roof. Her tenacity reminds me good things come in furry, small packages.
---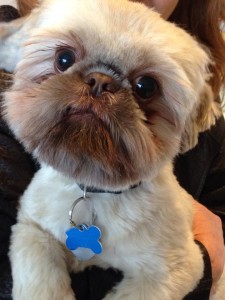 Malfi
My husband and I welcomed Malfi home a little over year after we got married. He was 8 weeks old and utterly adorable. He's named after the Amalfi coast in Italy where we spent our honeymoon – making him a dog of Tibetan decent, born in Massachusetts and named after place in Italy. Quite the league of nations!
Every night before bed, Malfi goes through a very elaborate bedtime routine. He walks behind the couch and scratches the carpet for a good 2 minutes with his paws. He then comes back to my husband and I and starts licking uncontrollably. This spree can last for 5-10 minutes. He licks my face, my hands, my husbands face and hands, the pillows on the couch or the comforter on the bed. If you try to stop him, he resets and the whole routine starts again. When he's finally done he circles around, fluffing up pillows with is paws and nestles in between Tim and I. He must be touching both of us when he sleeps.