The Shih Tzu and Pitbull seem to have personalities both at the far end of the spectrum. Shih Tzu are known for her undeniable charm and cuteness while Pitbulls are referred to as war dogs that have the ability to crush bones and even kill people.
It is not expected that six Shih Tzu-Poodle cross pups will find a home in the arms of a loving mommy Pitbull.
Kimberleigh Kernon is the president of Saving Grace Animal Rescue in Pasco County, Florida. She has been looking after a Pitbull named Nena which just gave birth to eight puppies.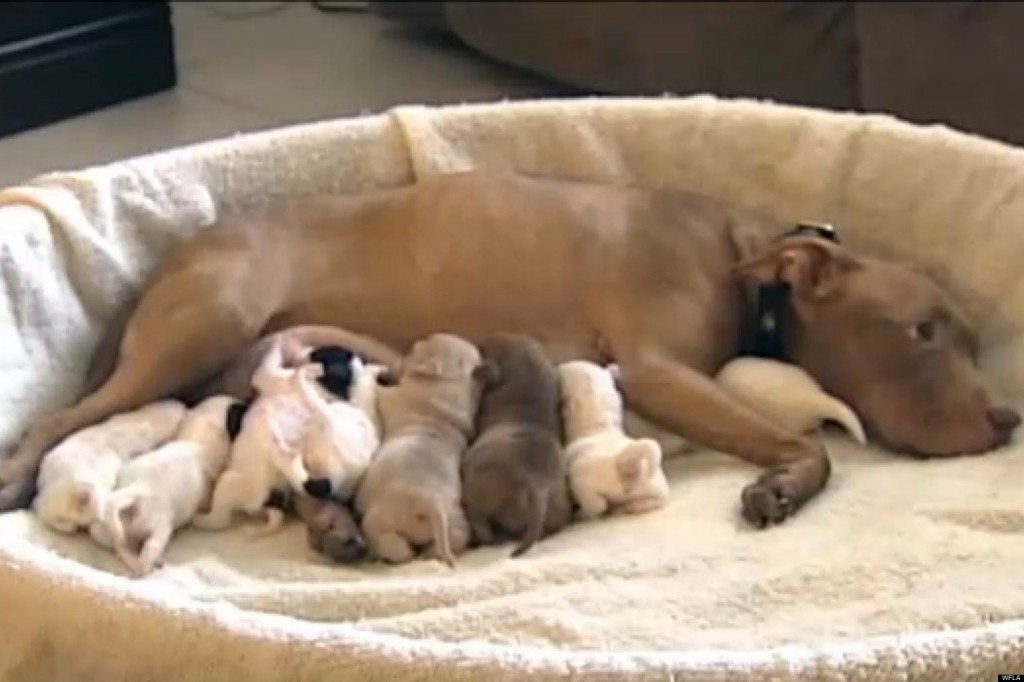 Unfortunately, only two of the eight survived and according to Kimberleigh, Nena is heartbroken and depressed. This dog lover thought of finding abandoned pups and letting them into her house for Nena to look after and somehow lessen the pain and longing that her Pitbull feels. Luckily, Kimberleigh received a notice from Facebook that somebody from South Carolina was looking for a foster doggy mom to look after some Shih Tzu pups. The mom of these days old babies have been hit by a car and eventually died. The owner was desperate to find a foster mom – which was what Kimberleigh was looking for. She contacted the owner and eventually got the six furballs into her home. She was expecting some adjustments especially on Nena's reception of the orphans; but she was surprised that the moment she stepped into the house and Nena heard the crying pups, Nena ran to the door and almost knocked Kimberleigh over just to take a look and get the pups. The six cuties are now safe and healthier under Nena's care – although it was very evident that the Pitbull pups are almost thrice as large. Kimberleigh may need to wean the pups soon to avoid any accidents. But for now, they are happily together as a litter and have accepted each other like family.
No one can truly underestimate the power of concern that dogs possess – whether it may be for us – their owners, or to their own kind – the same breed or not.