Being a student can get stressful, but the administration of Brooklyn-based Middle School 88 has found a solution: dogs.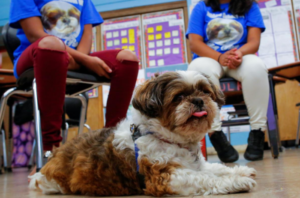 Petey Parker, a Shih Tzu mix, has been with the school since December of 2016 and is a huge hit with the 1400+ students. Joining the school through the New York City Comfort Dog program, Petey has been able to brighten the mood of students and act as a co-councelor for the support staff. This lovable pup is one of the first participants in a pilot program focusing on building empathy with students.
It is obvious that the addition of the dog has boosted morale, with the students of MS88 even brandishing shirts with Petey's face printed on them!
Comfort Dog Program
The Comfort Dog program is based on the Mutt-i-grees curriculum from Yale. Aiming to build and develop emotional intelligence and provide comfort for children starting from kindergarten up until grade 12, the New York program is now expanding to 30 more schools across the region.
A study conducted by Red Barn Inc. states that there are a myriad of benefits to having a comfort dog around, including:
Lessing depression and lifting spirits
Reducing boredom, anxiety, and loneliness
Aiding children in overcoming speech disorders
Increasing communication and socialization skills
For more on Petey and Middle School 88, see New York City students need comfort? In trots Petey the Shih Tzu!
Pictures courtesy of Eduardo Munoz