Shih Tzu belong to the canine breed category called toy breeds. These dogs have shorter legs and most of them (except the Miniature Pinscher and Chihuahua) are long coated. As small and short they can be, they also need regular exercise because they tend to get obese easier than bigger breeds. Here are some simple suggestions and pointers in walking your little pooch.
Depending on your schedule, you can take your Shih Tzu out for once or twice a day. For one exercise session, 30 minutes is already enough to stimulate normal cardiovascular metabolism and function in this breed. On the other hand, if you plan on taking twice a day walks, 15 minutes per walk is already good.
Remember that they are small and smaller animals have a higher respiratory and heart rate than bigger ones. Also, make sure to have stops along the way so he or she can have some break to sniff and relax which would prevent over fatigue and exhaustion at the same time. If you observe heavy panting, increased salivation and slowing down, it is already a sign that you Shih Tzu needs to rest and go home. Clean water should always be available at all times for your pet.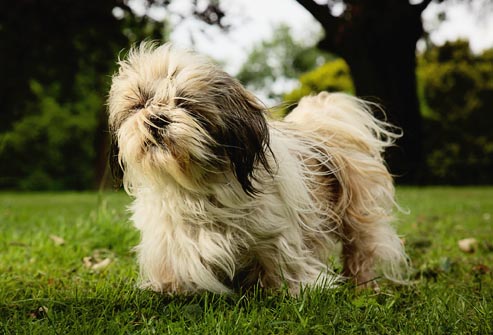 If ever you have a tight schedule and walking your dog cannot be squeezed in your day, you have to provide a play area where your Shih Tzu can run and play. He or she can be left there for a time while you attend to your business and eventually allowed to return back inside the house. You can place toys, a treadmill, pulleys or chews which can be used for exercise. For this case, you might need to leave your dog for 1-1 ½ hours for his daily dose of exercise. Just make sure that the weather is not too hot or too cold because Shih Tzu bodies are not good in dealing with extreme weathers.
Exercising your dog is part of having a healthy lifestyle, not only for your pet but also for yourself. Non-exercised dogs, apart from getting obese and heart problems at an early age usually develop unfavorable behaviors such as uncontrolled barking, chewing and other attention grabbing activities.