Snoring and snorting in dogs can be attributed to a wide range of reasons. However, in the Shih Tzu breed, it is a common occurrence that normally concerns owners. First thing to note is the occurrence of the snorting – does it come with some discharges? Does it happen after exercise? Secondly, check the breathing rate and pattern of your dog. Is there shortness of breath? Is panting compromised? And last but not the least, weigh your dog. Is he or she overweight or obese?
Knowing the answers to the above mentioned checklist of questions will help you and your veterinarian determine the problem. Snoring during sleep is common in Shih Tzu because they are anatomically challenged when it comes to their respiratory system. They are brachycephalic breeds which have a longer short palate than other breeds such as Labradors and Dobermans. This longer short palate tends to flap down the throat making the grunting sound. It can also occur while the dog is awake where grunting is seen after exercise. Moreover, Shih Tzu have pinched nostrils – their nasal passages are constricted due to their short and flat muzzle. This causes the struggle in breathing. Imagine having to deal with a moving soft palate and contracted nasal sinuses – such a difficult thing, right? These are the main reasons why this breed snorts and snore often.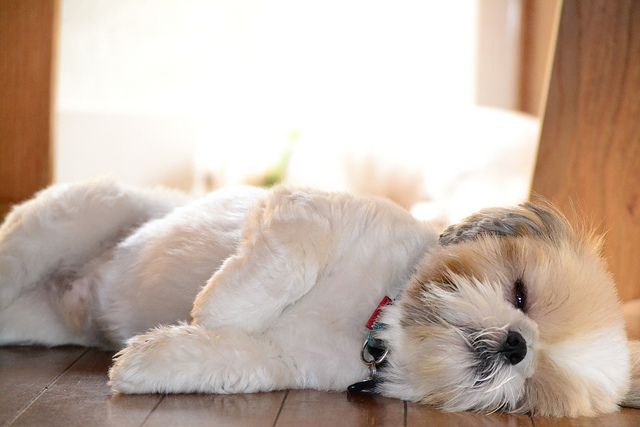 However, there are also other causes especially when the occurrence is sudden. The palate can be swollen due to barking and panting – though this is only temporary. There can also be a growth on the pharyngeal area or obstruction caused by ingestion of toys, shoelaces and other non-food materials. Weight gain also induces snorting because the buildup of fat layers add pressure on the neck and on the diaphragm making breathing difficult.
Additionally, also take note that snoring and snorting are not always an issue of health. Sometimes, these are just communication cues your Shih Tzu uses to tell you he is feeling fine and happy – especially after a massage and a rub on the stomach. Snorts and grunts are one of dogs' way of sending messages. For this variety of reasons, it is important to be observant and attentive in determining the cause of your Shih Tzu snores and snorts to differentiate the health risks from normal pet behavior.